Our Space
We transformed the former Vegetarian Palate space into a cycling studio in just 6 weeks! We owe great thanks to our collaborative designer Zach Rockhill and our superstar contractor Ruben Villasante.
Designer: Zach Rockhill
Zach is an accomplished artist who's won many awards and had many shows. His work, which has been shown in the United States and internationally, engages a broad range of mediums and practices including performance, video, drawing, photography, and sculpture. Zach has a passion for clean lines, natural colors and anything Brooklyn. Thanks Zach!
Contractor: Ruben Villasante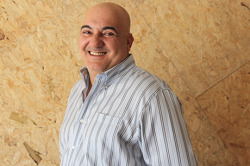 We owe many thanks to our great contractor, Ruben Villisante—the CEO of V and V Restoration. Ruben and his team were Herculean in their ability to finish their high quality job in 6 weeks. Ruben and his team at Landmark Restoration can be reached at (516) 607-1355.