Avery Washington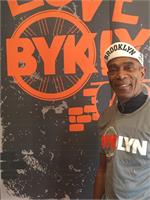 Name: Avery Washington
Hometown: Brooklyn
Why BYKlyn? I'm from Brooklyn and all about Brooklyn, so BYKlyn is like working from home! The studio provides great sound, an atmosphere that's quaint, colorful and allows for members to share the energy flow. The members reflect the neighborhood, diverse, up-beat, loyal, fun and ready to go!
What's your class really like: My classes are designed to keep your feet turning and your heart pumping. It's a indoor performance cycling experience with a variety of fun challenging intervals and rhythm pace enjoyment. You'll be coached and take yourself to the next level without knowing it.
What's your music vibe: The music will set the tone and provide the pace. My music is high energy and will keep you motivated when I don't (which is never). My music will cross all genres, it all depends on the challenge ahead. Come feel the vibe!!!
Life beyond the BYKbox: I love the outdoors and shooting pictures of the city as I move about this vast concrete canvas known as NYC. I enjoy the challenge of biking here in the city and everywhere I go.
Anything else you want us to know:
I am University of Maryland grad...Business, certified Level 2 USA Cycling Coach, League of American Bicyclist BikeSmart Safety Instructor, Specialized Body Geometry Bike Fitter, Spinning and Schwinn Indoor Cycling Coach, NASM Certified Personal Trainer Adult & Youth.
Brooklyn is in the House!!!
Social Media info:
FB: Avery Washington
Avery Washington instructs the following:
THE BYKlyn Experience: 45 minutes of high intensity cardio in our BYKbox to AMAZING music fitting the ride. Hills, Flats, Sprints, Intervals. This is a "no push up zone".