Nicole Murray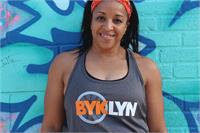 Born and raised on the beautiful island of Trinidad, Nicole is a running enthusiast. She's completed the NYC Marathon, NYC Half, and Brooklyn Half several times, and has even traveled internationally to complete races. In fact, preparing for races is what brought her to indoor cycling. She started using it as her cross training, and she fell in love with the workout. Nicole is a MAD DOGG Certified Spinning Instructor, and a AFAA Group Ex Certified Instructor. She is a firm believer that "life doesn't get easier, we just get stronger". Her love of music helps her build playlists that include pop, rock, house, hip-hop, soca and reggae. She says: "My class is a party on the bike! Come out ready to put in work, but also to have some head bopping, booty shaking, might as well be at the club, kind of fun!"
Facebook: @nicolefitfocus
Instagram: @nicolefitfocus
Nicole Murray instructs the following:
The 60 Minute endurance ride in our BYKbox to AMAZING music fitting the ride. Hills, intervals, sprints and serious sweat…it's all there and more. You might be scared…but don't be. Everyone loves the extra push!




Get Ready! Get Rowdy! Get Sweaty! Get SOCA! It's Soca night @ BYKlyn with the infamous Foreign Base -- LIVE DJ from Trinidad! TEAM Astonishing will be there too! They're a FIRE outdoor Trini riding team—the creators of Trini SOCA Ride 2017—a 25 mile, leisurely outdoor ride on Aug 29. Nicole is teaching and she's bringing her best SOCA moves to the BYKBox. Register NOW! Space is limited. Oh…RUM and COKE after y'all.




It's hot! Suns out! Cooler is FUUUUL and beer is cold! Grill is hot and kids are happy! It's Backyard Boogie time and the music brings it alllllll together. Calvin Harris, Rihanna, DJ Khaled, Kendrick Lamar, and the remixes of your fave summertime jams. This is the summer party you won't want to miss! Note: potato saiad not included.