(function(i,s,o,g,r,a,m){i['GoogleAnalyticsObject']=r;i[r]=i[r]||function(){ (i[r].q=i[r].q||[]).push(arguments)},i[r].l=1*new Date();a=s.createElement(o), m=s.getElementsByTagName(o)[0];a.async=1;a.src=g;m.parentNode.insertBefore(a,m) })(window,document,'script','https://www.google-analytics.com/analytics.js','ga'); ga('create', 'UA-102920276-1', 'auto'); ga('send', 'pageview');
Samantha Gipson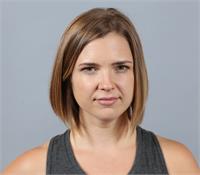 Samantha, (a.k.a HBIC at BYKlyn cuz she's our kick butt General Manager), grew up in North Carolina climbing peach trees on her grandfather's peach orchard. As a dancer and tennis player, she saw her share of injuries and someone suggested Pilates. She fell in love with the practice for its toning and lengthening. She saw the benefits of better posture, stronger core, and less injuries. She drank the Pilates Kool-Aid and became an instructor to share the love. Warning…Samantha looks sweet, but she might use that whip in her back pocket to keep you all pushing for the last set of reps.
FB: Samantha Autry Gipson
IG: samanthaagipson
Samantha Gipson instructs the following:
30 Min Pilates Mat Class with props to tone up those abs, back, obliques, arms, legs & glutes--the whole deal. The perfect compliment to cycling! $10 to either add on to the Spin Class ending at 9:45AM for a full body cardio & tone or drop in for a 30 Min toning workout.