(function(i,s,o,g,r,a,m){i['GoogleAnalyticsObject']=r;i[r]=i[r]||function(){ (i[r].q=i[r].q||[]).push(arguments)},i[r].l=1*new Date();a=s.createElement(o), m=s.getElementsByTagName(o)[0];a.async=1;a.src=g;m.parentNode.insertBefore(a,m) })(window,document,'script','https://www.google-analytics.com/analytics.js','ga'); ga('create', 'UA-102920276-1', 'auto'); ga('send', 'pageview');
Tiffani Carter-Thompson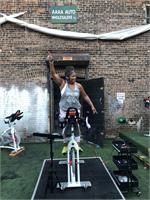 Tiffani believes that the connection between your fit life and real life should be fun. An eternal optimist, Tiffani loves to spread positivity – in her class, everyone is a warrior and we fly high! A new jersey native with Bermudian family roots, Tiffani and her husband have lived in Brooklyn for nearly 20 years (and in Park Slope for 8 years), where she is an active member of her community. Tiffani started her cycling journey over 15 years ago when she discovered indoor cycling at a neighborhood gym and fell in love with the movement and rhythm of the class. Tiffani is a MAD DOGG Certified Spinning Instructor, a passionate CrossFit athlete, a warm-weather runner and a self-proclaimed beach babe. She is also a closet DJ who loves to merge hip hop and old school garage house music into a super-hyped playlist that is both inspiring and motivating. Join her for a fitness high every Sunday!
IG: @TiffDCarTom
FB: Tiffani Carter
Tiffani Carter-Thompson instructs the following:
THE BYKlyn Experience: 45 minutes of high intensity cardio in our BYKbox to AMAZING music fitting the ride. Hills, Flats, Sprints, Intervals. This is a "no push up zone".




Sometimes, you wake up and you say, I REALLY need to hear Drake today, like a lot of Drake. Well, this ride's for you! Best I Ever Had, Hold On, We're Going Home, Controlla—All here, All Good, All Drake! For the love of Drake and all the Drake-nspired remixes-- you can't miss this ride.