Svetlana Bezinyan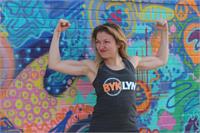 I was born in Moscow but have lived in Brooklyn for most of my life. After graduating I spent most of my professional life working internationally in law, in New York and in Paris, but always sought a dynamic outlet.
When I discovered indoor cycling, especially with great instructors, it all came together - the pulsating energy of a group of riders, the beat of the music, the surge, the challenge, and everybody together balancing on that beat - it's magic. Indoor cycling provided me with extremely effective training for just about any goal for body and mind, I could find it all in that room, on that bike, in that space, and out of my head.
Realizing how much I got out of indoor cycling and how much a great coach could do for an individual, I knew I wanted to pay that forward. I aim to give riders an experience of powerful motivation and to push them to explore their edges, their weaknesses and to find their strength. I indulge my creative side in every playlist and ride sequence, all to get each rider to go harder than they think they can just by trusting their bodies and having a little too much fun.
IG: @kaleidospin
Twitter: @Svet_Bez
FB / Snapchat: Svetlana Bezinyan
Svetlana Bezinyan instructs the following:
40 minute PureBYK Plus 5 minutes Madness: Arms, Core, Glutes...Gulp!! Killer way to start the week. Everyone needs that extra boost.