(function(i,s,o,g,r,a,m){i['GoogleAnalyticsObject']=r;i[r]=i[r]||function(){ (i[r].q=i[r].q||[]).push(arguments)},i[r].l=1*new Date();a=s.createElement(o), m=s.getElementsByTagName(o)[0];a.async=1;a.src=g;m.parentNode.insertBefore(a,m) })(window,document,'script','https://www.google-analytics.com/analytics.js','ga'); ga('create', 'UA-102920276-1', 'auto'); ga('send', 'pageview');
Ifrat Syeda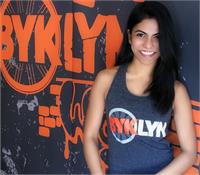 Born in Bangladesh, but raised right here in the heart of Brooklyn, it was only a matter of time before Ifrat found her way to Byklyn. Ifrat has been teaching cardio kickboxing for a year and a half. After falling head-over-sneakers in love with the fitness world, Ifrat decided it was time to fulfill her closet dream of being an indoor cycling instructor. Well if it's any proof that with hard work, dreams do come true, here she is teaching at Byklyn Cycle!
You can find Ifrat every Saturday at 4PM for a head-boppin' booty-poppin' sweat pourin' spirits sourin' 45 minutes of fun between your legs while she takes you through hills and drills. Fair warning though, her energy is contagious and no one is safe!
IG: @if_rat
Ifrat Syeda instructs the following:
THE BYKlyn Experience: 45 minutes of high intensity cardio in our BYKbox to AMAZING music fitting the ride. Hills, Flats, Sprints, Intervals. This is a "no push up zone".