(function(i,s,o,g,r,a,m){i['GoogleAnalyticsObject']=r;i[r]=i[r]||function(){ (i[r].q=i[r].q||[]).push(arguments)},i[r].l=1*new Date();a=s.createElement(o), m=s.getElementsByTagName(o)[0];a.async=1;a.src=g;m.parentNode.insertBefore(a,m) })(window,document,'script','https://www.google-analytics.com/analytics.js','ga'); ga('create', 'UA-102920276-1', 'auto'); ga('send', 'pageview');
Jo Brenner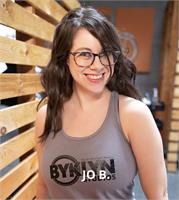 Can you pick up your speed FIVE. RPMs. MORE.? Can you turn your resistance knob ONE. LEVEL. HIGHER.? The answer to both is yes. Jo's mantra is "mind over body" — Your brain may say 'meh,' but your legs are going to say 'hell yes.' Jo's class is a series of shorter, high-intensity drills inspired by the beat of the music, because the right song in the right moment can inspire your body to transcend, and reach new, uncharted levels with every pedal stroke. And in many cases, it's that quirky one-hit-wonder by that obscure band you heard that one time at a random party, or that pop song of the late 80s that you secretly play on repeat in your bedroom with a spoon microphone in one hand and your hip bone in the other. In Jo's class you'll forget that crappy day at work as the music washes over you and your feet can't help but pick up the beat. That burn is a good thing.
IG: JoannaDanielle
Twitter: @JoannaBrenner
Facebook: https://www.facebook.com/joanna.brenner
Jo Brenner instructs the following:
THE BYKlyn Experience: 45 minutes of high intensity cardio in our BYKbox to AMAZING music fitting the ride. Hills, Flats, Sprints, Intervals. This is a "no push up zone".