Grace Twesigye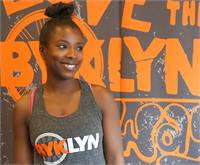 Grace became an enthusiastic indoor cyclist when her right knee went on strike after years of soccer, running, and dance. She immediately fell in love with the physical and mental tenacity involved in each ride, and as she closely watched her excellent instructors, she began to think: "Dude, I'd be so good at that!" And so it began. With each class, Grace strives to create a welcoming and nonjudgmental space where all riders can develop both physically and emotionally. Using handcrafted (and fabulous) playlists and choreographed cues, each of Grace's classes has a flow where the rider is pushed to deliver his/her best effort with every pedal stroke.
IG: twesg
Twitter: @helloiamgrace
Grace Twesigye is currently not instructing any classes.