Jay Reyes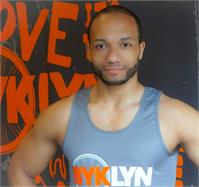 Exercise shouldn't be complicated. Hop on that bike, set your resistance and have fun! There will be times when you doubt yourself and ask yourself why are you doing this, but just know that with dedication and discipline, anything is possible. Once upon a time, I weighed in at an even 245lbs. Fast forward to the present, Mad Dogg certified and here now at Byklyn ready to lead you to your goals. Let's ride!!
IG: jayreyescycles
Jay Reyes instructs the following:
Drop the books and hop in the saddle. Students, Teachers and Teens are all welcome to THE BYKlyn Experience: 45 minutes of high intensity cardio in our BYKbox to AMAZING music fitting the ride. Hills, Flats, Sprints, Intervals. This is a "no push up zone". Our BYK$16 classes are ever Tuesday and Thursday at 5:15PM. Oh and yes like the title says it's only $16!!!