(function(i,s,o,g,r,a,m){i['GoogleAnalyticsObject']=r;i[r]=i[r]||function(){ (i[r].q=i[r].q||[]).push(arguments)},i[r].l=1*new Date();a=s.createElement(o), m=s.getElementsByTagName(o)[0];a.async=1;a.src=g;m.parentNode.insertBefore(a,m) })(window,document,'script','https://www.google-analytics.com/analytics.js','ga'); ga('create', 'UA-102920276-1', 'auto'); ga('send', 'pageview');
Eric Lawrence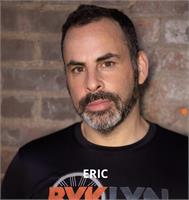 You want to know what my classes are like? In a nutshell: You come and hang out with me and a bunch of other people in a very special room that we call the BykBox. I turn down the lights, fire up the stereo, and you let me play some of my favorite music for you while I coach you through an intense ride that will feel more like an event than a class. My class is heavy on the Tabata inspired techniques. I also like to make sound effects with my voice during class (sounds weird I know, but people love it).
And beginners, have no fear, I'm there for you. I give special attention to my beginners before class so that you can feel comfortable and confident.
*Eric has been a full time instructor since September 2002.*
Eric Lawrence instructs the following:
The 60 Minute endurance ride in our BYKbox to AMAZING music fitting the ride. Hills, intervals, sprints and serious sweat…it's all there and more. You might be scared…but don't be. Everyone loves the extra push!