(function(i,s,o,g,r,a,m){i['GoogleAnalyticsObject']=r;i[r]=i[r]||function(){ (i[r].q=i[r].q||[]).push(arguments)},i[r].l=1*new Date();a=s.createElement(o), m=s.getElementsByTagName(o)[0];a.async=1;a.src=g;m.parentNode.insertBefore(a,m) })(window,document,'script','https://www.google-analytics.com/analytics.js','ga'); ga('create', 'UA-102920276-1', 'auto'); ga('send', 'pageview');
PRIDE RIDE w/ Sandy & Shane
This class is taught by: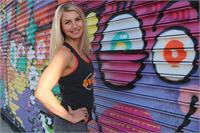 Throughout her early years, Sandy excelled in basketball as a 5-time AAU Maryland State Champion and McDonald's All-American nominee but pursued lacrosse at the Division1 level, serving as captain her senior year. She helped young woman on Long Island sharpen their lacrosse skills and go on to receive athletic scholarships while earning her MBA in Marketing and graduating cum laude from Hofstra University. Post-grad, a 6-week "volun-touring" opportunity to teach English in Cambodia turned into a 16 month adventure where she backpacked Southeast Asia and worked in Australia. Now back in New York, her certifications include Schwinn Indoor Cycling, TRX, and AFAA personal training. She is a category 4 racer for Bicycle Roots p/b Hatchmap team and a member of CRCA. Her "mind over matter" attitude is what fuels her challenging classes and invites participants to step out of their comfort zones and ultimately achieve their goals.
Insta: Sandypants4
Facebook: Sandy Wasserbach
Spotify: Sandy Wasserbach
Soundcloud: SandyPants4
Twitter (haven't tweeted in years): SDubs4
Sandy's teaming up with guest Master Instructor Shane Blouin to bring THE BIG PRIDE RIDE.
There will be hilarity, ruckus, shenanigans and dancing. And there will be Unicorns (you're welcome Shane). The ride begins with 30 minutes of HARD AF (and fabulous) Hills & Intervals with Sandy then 30 minutes of competition fun and games with Shane. So tell all your friends that you are coming out to celebrate PRIDE BYKlyn style.
Drinks after you ask? Hell yeah! We're serving up the Shandy. Get it. Shane and Sandy = Shandy = Beer and Lemonade. And of course rainbow snacks. So come out, ride it out, and party out! RESERVE HERE!