(function(i,s,o,g,r,a,m){i['GoogleAnalyticsObject']=r;i[r]=i[r]||function(){ (i[r].q=i[r].q||[]).push(arguments)},i[r].l=1*new Date();a=s.createElement(o), m=s.getElementsByTagName(o)[0];a.async=1;a.src=g;m.parentNode.insertBefore(a,m) })(window,document,'script','https://www.google-analytics.com/analytics.js','ga'); ga('create', 'UA-102920276-1', 'auto'); ga('send', 'pageview');
PureBYK
This class is taught by: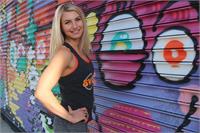 Throughout her early years, Sandy excelled in basketball as a 5-time AAU Maryland State Champion and McDonald's All-American nominee but pursued lacrosse at the Division1 level, serving as captain her senior year. She helped young woman on Long Island sharpen their lacrosse skills and go on to receive athletic scholarships while earning her MBA in Marketing and graduating cum laude from Hofstra University. Post-grad, a 6-week "volun-touring" opportunity to teach English in Cambodia turned into a 16 month adventure where she backpacked Southeast Asia and worked in Australia. Now back in New York, her certifications include Schwinn Indoor Cycling, TRX, and AFAA personal training. She is a category 4 racer for Bicycle Roots p/b Hatchmap team and a member of CRCA. Her "mind over matter" attitude is what fuels her challenging classes and invites participants to step out of their comfort zones and ultimately achieve their goals.
Insta: Sandypants4
Facebook: Sandy Wasserbach
Spotify: Sandy Wasserbach
Soundcloud: SandyPants4
Twitter (haven't tweeted in years): SDubs4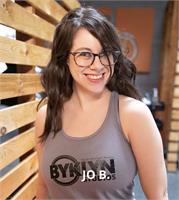 Can you pick up your speed FIVE. RPMs. MORE.? Can you turn your resistance knob ONE. LEVEL. HIGHER.? The answer to both is yes. Jo's mantra is "mind over body" — Your brain may say 'meh,' but your legs are going to say 'hell yes.' Jo's class is a series of shorter, high-intensity drills inspired by the beat of the music, because the right song in the right moment can inspire your body to transcend, and reach new, uncharted levels with every pedal stroke. And in many cases, it's that quirky one-hit-wonder by that obscure band you heard that one time at a random party, or that pop song of the late 80s that you secretly play on repeat in your bedroom with a spoon microphone in one hand and your hip bone in the other. In Jo's class you'll forget that crappy day at work as the music washes over you and your feet can't help but pick up the beat. That burn is a good thing.
IG: JoannaDanielle
Twitter: @JoannaBrenner
Facebook: https://www.facebook.com/joanna.brenner