(function(i,s,o,g,r,a,m){i['GoogleAnalyticsObject']=r;i[r]=i[r]||function(){ (i[r].q=i[r].q||[]).push(arguments)},i[r].l=1*new Date();a=s.createElement(o), m=s.getElementsByTagName(o)[0];a.async=1;a.src=g;m.parentNode.insertBefore(a,m) })(window,document,'script','https://www.google-analytics.com/analytics.js','ga'); ga('create', 'UA-102920276-1', 'auto'); ga('send', 'pageview');
BYK$16
This class is taught by: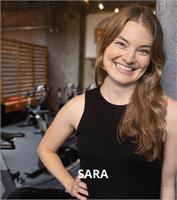 Sara is a Schwinn, and Mad Dogg Certified Indoor Cycling Instructor. Sara brings her contagious vibrant energy with a lifelong career in acting and comedy. As a former dancer, you can expect energizing music and beat driven rides that pack a punch with real results. Always fierce, fresh, and fun. Life philosophy: turn adversity into an opportunity. You can look forward to a little laughter, a LOT of sweat, and to come out of class feeling like a WARRIOR.
IG: SARAHOGREFE
FB: Sara Hogrefe
Twitter: @SaraHogrefe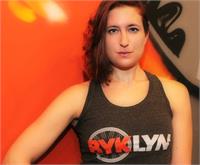 You know "THAT night"... that one epic night out when you're with a large group of your favorite people, all bets were off on where the night could go, anything could happen... and somehow the music was just right and the mood was just right, the good vibes were flowing, and you tore up that dance floor like no one was watching, sweat dripping from your face... you owned that night. "THAT night"... is my ride. I offer my riders a positive, intoxicatingly fun yet real ride experience. 45-60 min combining high intensity sprints, intervals, hill repeats, and steady climbs that will take you to your next level of fitness.
IG: katdp925
Drop the books and hop in the saddle. Students, Teachers and Teens are all welcome to THE BYKlyn Experience: 45 minutes of high intensity cardio in our BYKbox to AMAZING music fitting the ride. Hills, Flats, Sprints, Intervals. This is a "no push up zone". Our BYK$16 classes are ever Tuesday and Thursday at 5:15PM. Oh and yes like the title says it's only $16!!!
Upcoming classes: